SaaS
What is SaaS?
The Full form of SaaS is Software as a service which is a cloud software where it will be maintained by a third party.
This SaaS is under cloud computing, Most Business organizations finding benefits using cloud computing, SaaS is managing various business technology, Human Resources finding more Benefits using SaaS Technologies. Software as a service, cloud computing, application service, customer access, software licensing, subscription, pricing abstract metaphor. Some of the applications are salesforce.com, Google Apps, Amazon Web Services, Zendesk, Dropbox, Slack, Trello, etc.,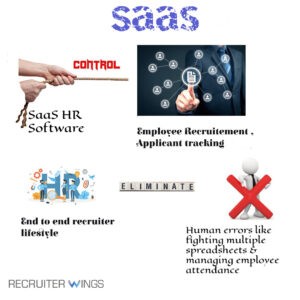 How it's working?
There will be a provider who provides the services to their client, their client is the one who subscribed to the SaaS Software, after getting the Subscription the user will have the login code, the user can access the software after the login process.
Provider maintains their Record and makes sure whether the records are safe and secure.
The provider will be responsible for updating the records, handling the sudden flaw, a minor mishap
There are clients who need support, in that case, the provider will support them.
Benefits of SaaS:
It will Maintain the Employee Record like sales, billing, emails, customer record, and so on.
It is efficient and easy to use.
Cloud architecture provides all users with the same security standards local hardware and software problems are less likely to lead to data loss due to the decentralized storage of all data on a cloud server. Smaller companies enjoy the same security standards as larger companies.
Reduced time.
Lower Cost and new functions and updates are implemented and integrated much faster
Scalability & Integration.
The disadvantage of SaaS:
Handling Security is the most arduous thing, sometimes handling security will go out of hand, at that time the business will become weak over the securities.
As SaaS is more Popular, they are not providing their services to the hosted services
As SaaS is web basis the client will lose access to the software if they have poor network connections.
If we are accessing through a local machine the SaaS may perform at a lower speed